If you can cast your mind back to May 2012 you will remember that I went on a 1200 mile journey to inflate 12 balloons but could not tell you  where I went, who I was with or why I was asked to do this job, but all can now be revealed. The client was Risk Productions who are the production company behind the programme "Idiot Abroad" featuring Karl Pilkington and Warwick Davis.
I was flown out the Macedonia to assist with one of the challenges Karl had to do and ended up being involved in the scene due to the complexity of the challenge. The picture below was taken just after I had strapped Karl into the harness.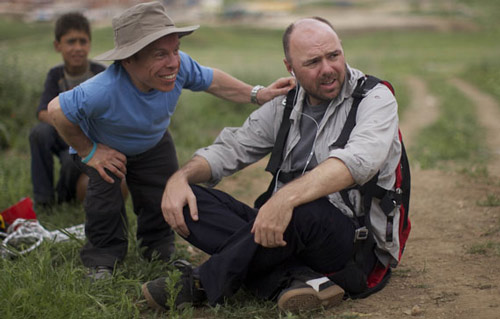 The first episode is tomorrow night (Friday 30th November) on Sky 1 at 9 pm where you will be able to see what happen so I'm not going to give the game away but its very funny.
Idiot Abroad 3, watch the trailer here